Paper Submission
Location:
Home
> Paper Submission
Author Instructions

The submissions should contain original, high quality, not submitted or published elsewhere work. Papers should be submitted electronically in PDF or DOC format and should be 5-8 pages including all figures, tables, and references. If the paper is more than 8 pages, additional pages will be charged (40USD/280RMB/per page). Detailed paper templates maybe found here:


ACM Conference Proceedings Template

IJEETC Template

For those who want to do presentation only without paper publication, abstract template maybe found here:


Abstract Template

Note: The submitted papers will be peer reviewed by 2-3 reviewers or Technical Committee. The accepted papers will receive Notification of Acceptance Letter and Review Form sent from the conference email box on the due date.

Paper Publication

The accepted and registered papers can be published in the following conference proceedings or journals: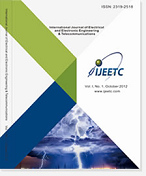 ACM Conference Proceedings (ISBN: 978-1-4503-6541-3): archived in the ACM Digital Library, indexed by Ei Compendex and Scopus, and submitted to be reviewed by Thomson Reuters Conference Proceedings Citation Index (ISI Web of Science).
Or
International Journal of Electrical and Electronic Engineering & Telecommunications (IJEETC, ISSN: 2319-2518): indexed in Scopus (since 2017), Google Scholar, Crossref, Citefactor, etc.
投稿的全文将进行同行审阅,被录用并注册的文章将出版到国际会议论文集,并由Ei Compendex和Scopus检索,送审Thomson Reuters Conference Proceedings Citation Index (ISI Web of Science)或者发表到国际期刊IJEETC(ISSN:2319-2518),由Scopus等检索。

EEET 2018 will showcase high quality oral and poster presentations. Best Presentation awards will be selected in the conference sessions and recognized at the end of each session.

Submission Methods

To submit via Electronic Submission System (PDF) or conference email box: eeet@cbees.net (PDF/DOC). It will be replied with the Paper ID within two working days by eeet@cbees.net.